Leak Detector, Heated Pentode®
$300.00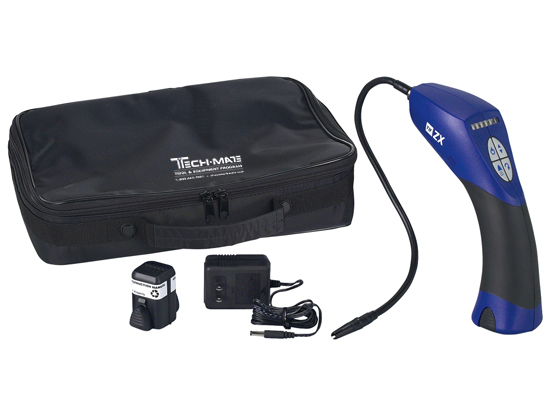 TIFZX includes: (1) ZX Refrigerant Leak Detector (1) Battery Pack, Nickel Metal Hydride (NiMH) (1) Battery Charger (1) Soft Carrying Case (1) Owner's Manual
Features
Heated Pentode® sensor technology.
Tri-color visual leak size indicator.
Detects all CFC, HFC, HCFCs including R-12, R-22, R-123, R-134a, R-404a, R-407a, R-408a, and R-410a.
Tactile keypad controls with one-touch reset and adjustable sensitivity.
True mechanical pump provides instant response and clearing.
Battery test function.
Sensor failure indication.
Rechargeable batteries.
Revolutionary design.
Technical
| | | |
| --- | --- | --- |
| Weight approx. | 1 | lbs |
| Dimensions (L x W x H) | 10.25 x 2.5 | inch |
Options
| | | | |
| --- | --- | --- | --- |
| 49-TIFZX-10 | Flexible Probe (includes Probe Tip) | $35.00 | Add to cart |
| 49-TIFZX-14 | Maintenance Kit: probe, filter, o-ring | $28.00 | Add to cart |
| 49-TIFZX-15 | Filter Elements (5 pack) | $19.00 | Add to cart |
| 49-TIFZX-2 | Replacement Heated Pentode™ Sensor | $57.00 | Add to cart |
| 49-TIFZX-3 | 110V-60Hz Battery Charger | $21.00 | Add to cart |
| 49-TIFZX-5 | Ballistic Nylon Carrying Case | $42.00 | Add to cart |
| 49-TIFZX-7 | Nickel-Metal Hydride (Ni-MH) Battery Pack | $91.00 | Add to cart |
Accessories
| | | | |
| --- | --- | --- | --- |
| 49-TIFZX-11 | 12V DC Cigarette Lighter Charger | Call for price | Add to cart |
| 49-TIFZX-6 | Remote Battery Charging Base, 110V-60Hz | $83.00 | Add to cart |