High Temperature Refrigerated Air Dryer
$1,591.00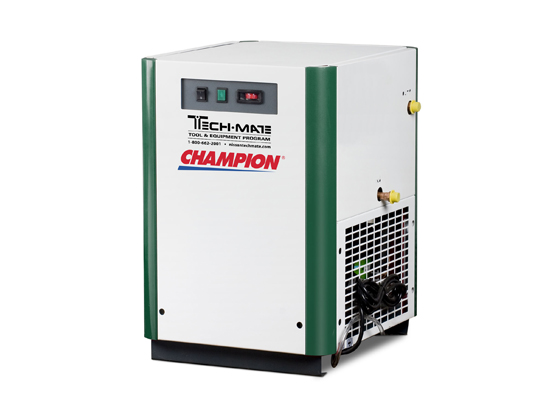 Refrigerated air dryers are the simplest method to remove moisture from your compressed air lines. Water is a major factor in the degradation of downstream equipment. These and other costly problems can be eliminated by removing enough water from the compressed air so that condensation cannot occur in your air line. Champion high inlet temperature dryers are perfect for compressed air applications where no aftercooler is present in the system.
Features
Non-cycling.
180 degrees F maximum inlet temperature.
Four levels of intelligence controls.
Copper heat exchangers.
Includes factory installed Combination Water Separator/Filter that removes particulate (up to 3 micron) and oil vapor (up to 5 ppm).
Standard 2 year warranty.
200 psig maximum pressure rating (ratings in accordance with NFPA recommended standard T3.27.3-1976 Class H dew point (33-39 degrees F) based on 100 psig, 100 degrees F ambient air with 5 psig pressure drop.
Weight and dimensions will vary for each optional model listed below.
Options
| | | | |
| --- | --- | --- | --- |
| 27-CRN200A3 | CRN Refrig Dryer 200 SCFM, 230-3 | $4,874.00 | Add to cart |
| 27-CRN35A2 | CRN Refrig Dryer 35 SCFM, 230-1 | $1,591.00 | Add to cart |
| 27-CRN50A1 | CRN Refrig Dryer 50 SCFM, 115-1 | $2,065.00 | Add to cart |
| 27-CRN50A2 | CRN Refrig Dryer 50 SCFM, 230-1 | $2,065.00 | Add to cart |
| 27-CRN75A1 | CRN Refrig Dryer 75 SCFM, 115-1 | $2,672.00 | Add to cart |
| 27-CRN75A2 | CRN Refrig Dryer 75 SCFM, 230-1 | $2,672.00 | Add to cart |