Supreme Sliptech 11/16" Solid Black 2' x 3' Anti-Fatigue Mat
$52.00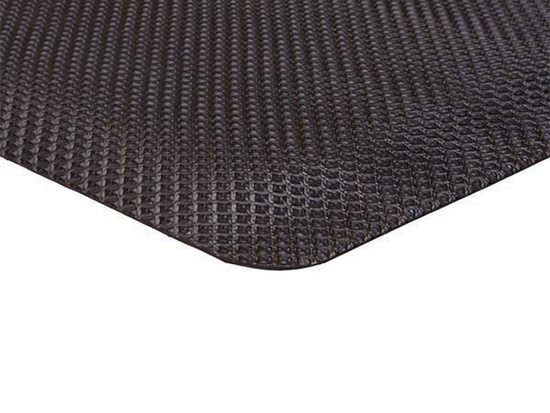 "Outstanding comfort with a modern surface design, Sliptech offers high-tech appearance with enhanced durability. These mats reduce fatigue from standing, easing pressure to feet, legs, and back. Softness, support and better weight distribution. Reduces impact on joints, and has a resilient foam construction. The mat bounces back to the foot when being compress, which alleviates fatigue. Several different sizes available, and custom sizes are also available. Please call us if you do not see the size you are looking for! "
Features
3/16" rubberized surface bonded to ergonomic vinyl closed cell foam.
Large industrial pyramid surface provides great traction, compression and dual compression-deflection properties between surface and foam.
Rubberized wear-surface outlasts other wear-surfaces.
Wear-surface will resist most common chemicals.
Options
| | | | |
| --- | --- | --- | --- |
| 713-001-01434AM | Supreme Sliptech 11/16" Solid Black 3' x 5' Anti-Fatigue Mat | $130.00 | Add to cart |
| 713-001-01435AM | Supreme Sliptech 11/16" Solid Black 3' x 10' Anti-Fatigue Mat | $222.00 | Add to cart |
| 713-001-01436AM | Supreme Sliptech 11/16" Black/Yellow 2' x 3' Anti-Fatigue Mat | $57.00 | Add to cart |
| 713-001-01437AM | Supreme Sliptech 11/16" Black/Yellow 3' x 5' Anti-Fatigue Mat | $144.00 | Add to cart |
| 713-713-001-01438AM | Supreme Sliptech 11/16" Black/Yellow 3' x 10' Anti-Fatigue Mat | $246.00 | Add to cart |
Other AME Vertical Products