Lynx 55:1 Grease Piston Pump Portable Package - 120lb
$674.00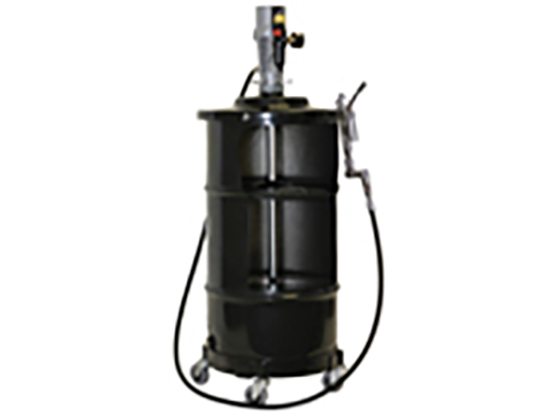 Lynx 55:1 is designed for high-pressure, low-volume portable grease. Not recommended for piped overhead systems. Portable Package includes: - Bare Pump - Bung Adapter - Fluid Hose (10' x 3/8") - F/R Auto Drain 1/4" NPT(F) - Follower Plate - Drum Cover - Dolly Base - Wide Track 120 lb./16 gal. - Comfort Grip Grease Handle Note: Pump packages include all hoses and adapters required for connecting an oil pump to the air supply, and oil dispense line.
Features
Even distribution on each stroke, allowing for long seal life.
Double-acting pump design pumps product on both up and down stroke, providing smooth and reliable flow and pressure.
Corrosion-proof air motor design tolerates moisture in compressed air.
On-demand operation adjusts speed to match system flow and pressure requirements. When the dispense valve is closed, the pump stops.
Internal filter mesh for reliable pump operation.
Precision machined and hardened upper ball check to tolerate small impurities in the grease.
Technical
| | | |
| --- | --- | --- |
| Power supply | Air | V/Hz/A |
| Dimensions (L x W x H) | 45 x 5.5 x 22 | inch |
| Weight approx. | 39 | lbs |
Accessories
Other Balcrank Corporation Products