Dual Port Wall Mount Bundle (Front of Dealership)
$6,795.00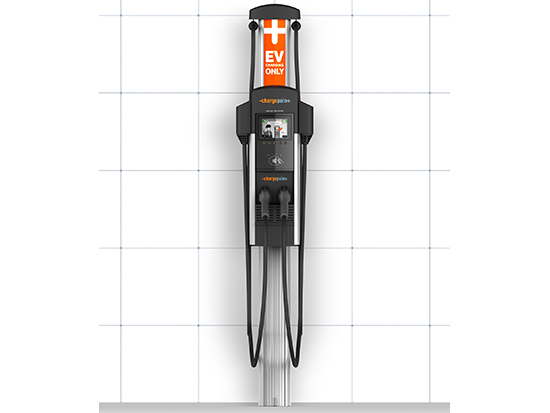 ChargePoint is the market leader in Electric Vehicle Charging Stations. With more than 28,000 charging stations installed, adding these stations to the front of your dealership will put your location on the map and make you a destination for over 220,000 ChargePoint drivers and thousands more interested in owning an electric vehicle. Every 6 seconds someone plugs into a ChargePoint station; make your dealership a part of the movement. The CT4000 Series is the latest generation of ChargePoint stations which are easy to customize with the approved Auto OEM logo or the dealership's brand. The CT4023 is a dual port wall mount station designed for the front of the dealership which can cover two parking spaces and comes standard with a robust cord retraction system keeping the charging cords off the ground. This bundle includes the charging station, a 1-year network service plan, extended warranty and maintenance with 98% guaranteed uptime. Dual Port Wall Mount Bundle Items include: ¥ 4023-GW1 (Dual Port Wall Mount Charger)- Qty 1 ¥ CTSW-SAS-COMM-1 (1 Yr. Prepay Network Svcs)- Qty 2 ¥ CT4000 Assure (1 Year Parts and On-Site Labor to repair or replace any manufacturing defect. Includes remote monitoring of station and proactive repair dispatch. Guaranteed 98% Uptime) - Qty 1 ¥ CPSUPPORT-ACTIVE (Station Activation & Configuration Service. Activate ChargePoint Service Plans. Activate ChargePoint Warranties. Configure Radio Groups. Configure Custom Groups. Configure Connections. Configure Access Control. Configure Visibility Control. Configure Pricing. Configure Reports and Alerts.) ¥ CT4000 SITEVALID (On-Site Validation of electrical capacity, transformers, panels, breakers, wiring, cellular coverage and that station installation meets all ChargePoint published requirements. Successful Site Validation is required to active CT4000 Assure) - Qty 1
Features
Maintenance-free, light-weight, self-retracting cords comes standard keeping the charging cords off the ground.
5.7" color LCD screen allows you to run your own video content or an Auto OEM approved commercial.
Two standard SAE J1772TM Level 2 charging ports with locking holsters can charge two vehicles at once and are compatible with all plug-in electric vehicles.
Standard EV Charging Only sign is easily replaceable with Auto OEM or dealership branding.
All stations are fully software upgradeable over the air, future-proofing your investment.
Manage, monitor and report station usage using ChargePoint's web-based management platform.
UL listed for USA and cUL certified for Canada; complies with UL 2594, UL 2231-2, and NEC Article 625.
Electrical Input (AC Rating): 208/240 VAC 60Hz single phase @ 30A x 2.
Electrical Output (AC Rating): 7.2kW (240VAC @ 30A) x 2.
Accessories
| | | | |
| --- | --- | --- | --- |
| 727-CT4000-PMGMT | Power Management Kit - Allows both ports on a dual port station to share a single 40A circuit (Power Share). Also allows a CT4000 to be set up to operate at a lower current (Power Select). | $63.00 | Add to cart |
| 727-CT4001-CCM | Bollard Concrete Mounting Kit | $103.00 | Add to cart |
Other ChargePoint, Inc. Products